Family Suite
Our Family Suites have 2 private bedrooms with 2 Queen beds and 1 Twin.  Bedrooms are adjoined by the common bath with shower/tub. Relax outside on the french door balcony, where your senses will delight in the fresh ocean air and vivid colors of nature that surround you here in Florence.  Entry to the suites is located on the ground floor's interior corridor, with the option of entering each room individually as well.  Sorry, no pets.
King Family Suite
Do you love an open spacious area that's also warm and cozy?  With plenty of room to relax comfortably or share with family or friends?  If so, we welcome you to settle into our 750 sq ft King Family Suite.  You'll feel right at home here with 2 King beds and a comfy sofa with a pull-out bed in the cozy sitting area with coffee table.  Also included are a dining table, recliner, desk, and TV/DVD/VCR combo.  Enjoy relaxing on the over-sized balcony with a view of the Siuslaw River, and take in the sea-salty air and vivid coastal colors that surround you.  The balcony also has a private stairway with parking.  The huge walk-in closet has plenty of space for luggage, family supplies, etc.. and any treasures found during your stay can be neatly stored and out of your way.  This suite is also enjoyed and requested by solo travelers; writers, musicians, and seekers of all kinds.  Our guests find it's unique charm very warm and comforting.   Sorry, no pets.
Queen Room
We offer ground floor and upstairs rooms.  Please call and let us know if you have a preference.  Sorry, no pets.
Queen + Twin
Located upstairs, this room has just been updated with fresh paint, flooring, and furnishings.  This room has a daybed that converts to the twin size bed.  Sorry, no pets.
Two Queens
Located on the ground floor with both interior and exterior entrance, with parking in private driveway. TV/DVD/VCR.  Sorry, no pets.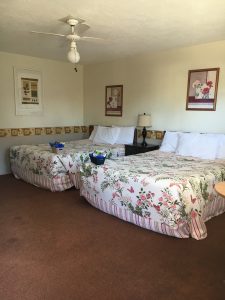 Deluxe King
Located in the quiet alcove on the backside of the property.  Enjoy the cozy sitting area with a coffee table and sofa with pull-out bed.  Parking at your private entrance.  Pets welcome here.
Standard King
Located on the ground floor. We have several room options for you to choose from.  These include recently updated and designed theme rooms that you can choose from. Please give us a call if you have a preference so that we can best accommodate you.  Pets welcome in select rooms.
Family Suite with Kitchenette
Our Family Suite with Kitchenette has recently been updated with new flooring and fresh paint, including a beautiful mermaid wall mural.  2 Queen beds and 1 Twin with 2 private bedrooms, each having their own private bathroom and entrance.  Bedrooms are adjoined by the kitchenette, making this family suite your home away from home.  These are the only 2 rooms located on the northern backside of the property, so you'll enjoy having extra privacy and parking at your entrance.  Perfect for families traveling with kids, couples or a group of friends.  Even better, your pets are welcome to stay too!